Fastest Custom Full Length Umbrella
Fastest Custom Compact Umbrella
Fastest Custom Umbrellas
If you are looking for the fastest custom umbrellas solutions, you have come to the right place. Gouda offers two frame styles that we keep in stock for 30 day production. Not just a logo printed on a finished umbrella but fully printed umbrella panels with all over coverage.  We print these styles in full-color, so even if you are looking for photographic printing on your umbrellas, our digital printing process will capture all of the detail you are looking for.
Finally a way to create truly all over effects with full-color printing at smaller quantities.  Our best in class full-color printing and stocked frames make these styles cost effective with the fastest delivery.
Have a look at the details of our two fastest custom umbrellas in the videos above to see all of the construction details.
If your project calls for custom details to your frames, call us to discuss the options. We manufacture frames to order when you need a specialty frame. You can read about our custom umbrella handles and frames here: Custom Umbrella Handles
Try our new umbrella customizer tool to create your custom umbrella design in 3D. Easily preview your umbrella design from all angles using our latest customizing tools you can find here: Customizer Tool
Frequent Questions:
What are the minimum order quantities? 250 units
What types of frames do you stock? Auto open full length and auto open compact frames.
Dimensions of the full length umbrella? 46″ arc when open / 34″ length
Dimensions of the compact umbrella? 43″ arc when open / 11″ length closed
Can I see an approval sample of my umbrella before bulk production? Yes
How long do samples take? Approximately 2 weeks
Can I order a virtual proof of my umbrella design? Yes, and you can use our Customizer Tools to  finalize designs:
After I approve my sample or my virtual, how long does production take? Approx 30 days
What about shipping time? We ship via ocean or air to your final destination. Ocean shipping is less expensive and is included in your per unit cost. We will provide a complete quote for your project including any additional shipping costs if you choose to ship via air.
If I want another type of frame, can Gouda make it? Yes, these frames are the fastest we offer and are kept in stock, but we manufacture a full range of customized frames including custom wood tones and other options. Read more about our Custom Umbrella Frames to see if custom is a better choice for your project.
Can my artwork be full color all over the umbrella? Yes
Can I have double layers and interior prints? Yes
What kind of artwork do I need to supply? We prefer Adobe Photoshop or Adobe Illustrator when possible
Can Gouda help me finalize my artwork? Yes
Can Gouda rush my umbrellas faster? We can print logo umbrellas on our stock styles in ten days, but fully-custom styles will take 30 days to print and assemble
Can I see a random sample of the umbrella style before placing an order? Yes
Can you match Pantone® colors? Yes
How do I get a quote for my project? Contact us
If you prefer to discuss your project, we love to talk about umbrellas: 212-477-9373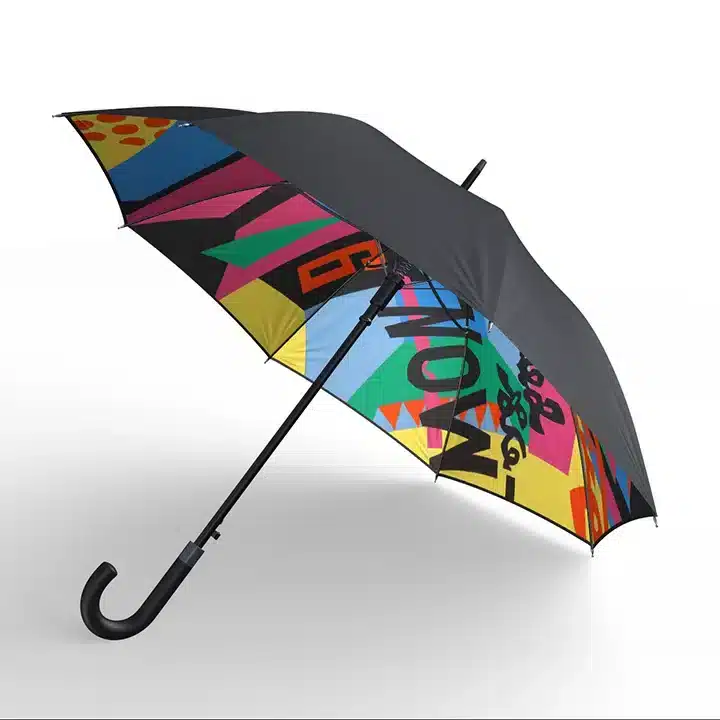 This is an example of double layer umbrella with an exterior layer and a printed interior layer
5
This is an example of double layer umbrella with an exterior layer and a printed interior layer
Compact Umbrella opens to 43″ open and 11″ when closed
Full color printing engineered across all 8 panels
Black Cap color matches the black frame and hardware
Black Ribs and Hardware throughout umbrella
5
This is an example of double layer umbrella with an exterior layer and a printed interior layer
1
Compact Umbrella opens to 43″ open and 11″ when closed
2
Full color printing engineered across all 8 panels
3
Black Cap color matches the black frame and hardware
5
Black Ribs and Hardware throughout umbrella